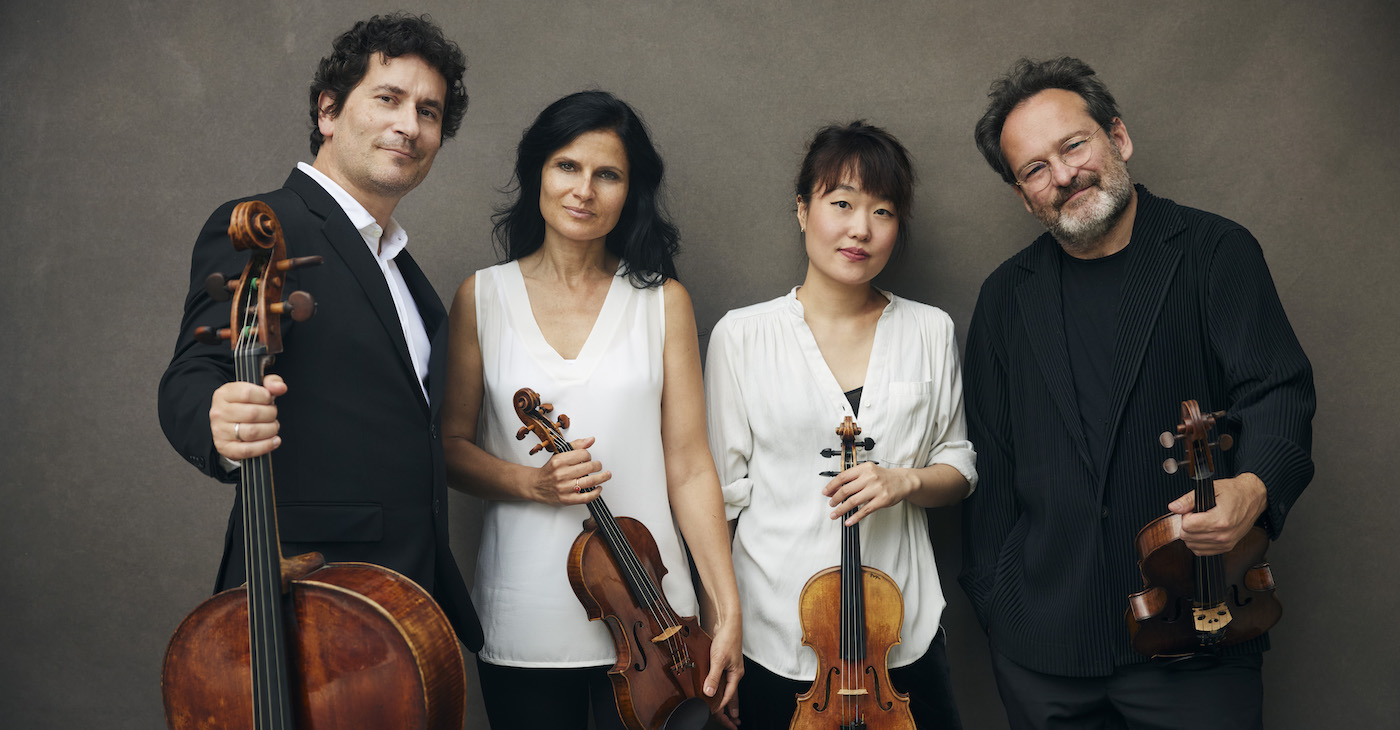 BELCEA QUARTET
Corina Belcea, violin
Suyeon Kang, violin
Krzysztof Chorzelski, viola
Antoine Lederlin, cello
Quartet no. 4 in C minor, Op. 18 No. 4
Quartet no. 1 in A minor, Sz. 40
Quartet no. 12 in E-flat, Op. 127
The Belcea Quartet has established itself in the last quarter-century as one of the world's most celebrated chamber-music ensembles. Founded in 1994 and mentored by members of the Alban Berg and Amadeus Quartets, the ensemble brings together musicians of very different artistic provenance: the Romanian violinist Corina Belcea, the Polish violist Krzysztof Chorzelski, and their French colleagues, violinist Axel Schacher and cellist Antoine Lederlin. This diversity is reflected in the Belcea Quartet's repertoire. Its performances of world-premieres of new works go hand-in-hand with its profound connection with the great works of the Classical and Romantic periods.
Since 2010, the quartet has been Artist-in-Residence at the Vienna Konzerthaus (an honour shared with the equally celebrated Artemis Quartet), and since 2017 they have combined this Vienna appointment with the position of  Quartet Artist-in-Residence in Berlin's premier chamber-music venue, the Pierre Boulez Saal.
The Belcea Quartet has an extensive and prize-winning discography. During its long-term association with EMI Classics, the quartet has recorded the complete Britten and Bartók quartets as well as works by Schubert, Brahms, Mozart, Debussy, Ravel and Dutilleux, amongst others. In 2012 and 2013, the quartet recorded the complete Beethoven quartets live to great critical acclaim, including a Gramophone Award. This was followed in 2015 by the quartet's highly acclaimed recording of works by Webern, Berg and Schoenberg. 2016 saw the release of the quartet's recording of the complete Brahms String Quartets and the Piano Quintet (with the Austrian pianist Till Fellner), a CD acclaimed by the press and awarded a Diapason d'Or Award. Shostakovich's String Quartet no. 3 and his Piano Quintet (with Piotr Anderszewski) followed in 2018, with works by  Janáček and Ligeti in 2019.
The Belcea Quartet's performances of the complete Beethoven string quartets at Vienna's Konzerthaus in 2012 were broadcast by Mezzo TV and were released – on DVD and Blue Ray disk – by the label Euroarts in the autumn of 2014.
The musicians have created the Belcea Quartet Trust, whose main aims are to support and inspire young string quartets through a series of intensive coaching sessions, as well as to support the commissioning of new works from today's leading composers to be premiered by the quartet in the future.