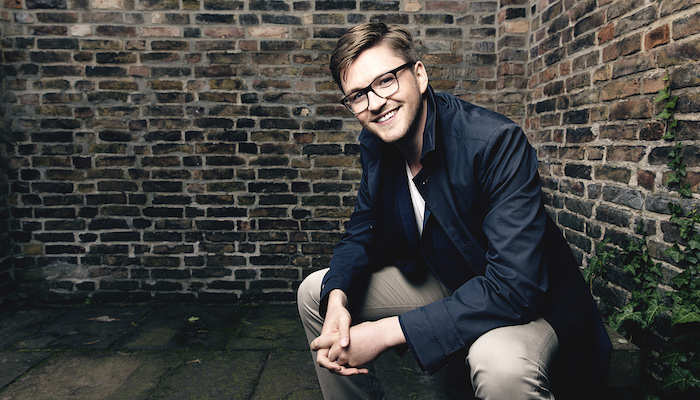 SAMUEL HASSELHORN, baritone • HELMUT DEUTSCH, piano
Generously sponsored by Mr and Mrs Adam Horne
'Abends am Strand', from Romanzen und Balladen, Op. 45, No. 3
'Dein Angesicht', from Funf Lieder und Gesänge, Op. 127, No. 2
'Lehn deine Wang' an meine Wang', from Vier Gesänge, Op. 142, No. 2
'Mein Wagen rollet langsam', from Vier Gesänge, Op. 142, No. 4
The distinguished German baritone Samuel Hasselhorn first came to prominence when he was a prize-winner in the 2015 Kohn Foundation International Song Competition at Wigmore Hall, and shot to international fame when he won the 2017 Das Lied International Song Competition in Heidelberg, with a jury chaired by the great baritone Thomas Quasthoff. Since then, Samuel Hasselhorn has gone on to win first prize in the 2018 Jungen Opernstars [Young Opera Stars] competition of German South West Radio, adding to a portfolio of awards that already included prizes from the Hugo Wolf Competition, Young Concert Artists Auditions New York, Nadia and the Lili Boulanger Competition Paris, and Bundeswettbewerb Gesang Berlin.
In concert and recital Samuel Hasselhorn has appeared at Ravinia Music Festival, Marlboro Festival, Carnegie Hall, Notre Dame de Paris, Gewandhaus Leipzig, Musikverein Vienna, Philharmonie Gasteig Munich, Schubertiade Vilabertran and with Malcolm Martineau at the Bath Music Festival; opera highlights include Kaiser Overall in Viktor Ullmann's Der Kaiser von Atlantis and as Masetto in Don Giovanni for the Opéra de Lyon, and his debut at Leipzig Opera. Hasselhorn was a member of the Vienna State Opera for two seasons. His first CD, Nachtblicke, with Lieder by Schubert, Pfitzner, and Reimann was released to critical acclaim in 2014.
Born in Austria, Helmut Deutsch is internationally renowned as a chamber musician and accompanist. He began his accompanying career with Irmgard Seefried and has since accompanied singers including Juliane Banse, Barbara Bonney, Grace Bumbry, Ileana Cotrubas, Diana Damrau, Brigitte Fassbaender, Angelika Kirchschlager, Genia Kühmeier, Christiane Oelze, Rita Streich, Ruth Ziesa and Olaf Bär, Matthias Goerne, Dietrich Henschel, Thomas Moser, Christoph Pregardien, Thomas Quasthoff, Andreas Schmidt, Bo Skovhus, Michael Volle and Bernd Weikl. Helmut Deutsch made his Royal Opera debut in 2014, accompanying his regular recital partner Jonas Kaufmann in a main-stage recital of Winterreise. Deutsch appears frequently as a guest performer at music centres and festivals around the world.
His wide discography includes many award-winning recordings. He taught at the Vienna University of Music from 1967 to 1979 and was Professor at the Munich Hochschule für Musik 1986–2011. He continues to give regular masterclasses in Europe and Japan.